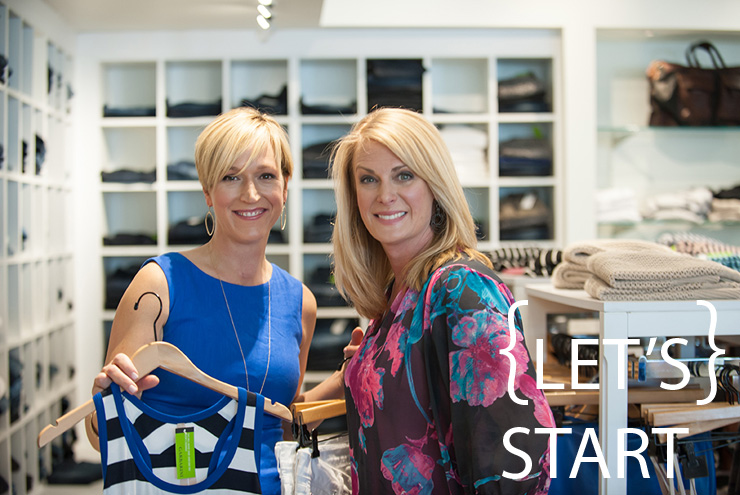 Style™ = Trademark YOUR Style. You are as unique and special as your style. Let's find it, together. Confidence. Sexy. Happy. Satisfied. No canned responses. No style magazine makeover. What works for you? What is your trademark?
It all starts with..
"Coffee Talk" Consultation
It's fun. It's freeing. Oh, and it's free! It's all about the conversation. It could start over wine, talking about your lifestyle and wardrobe. Or it could be at Starbucks with your laptop. Over the course of our conversation we'll explore and create; we'll uncover and discover. We plant the seeds of possibility.
Price= skinny vanilla latte!
"Wardrobe Workout"
This is where the fun begins! The idea is to pair the right colors, styles, textures, and fit to your body type. Let's identify what works? What doesn't? Together we will determine if your current style or way of dressing is aligned with YOUR desired trademark; YOUR lifestyle. Together we'll go through your current wardrobe (season) and determine which pieces work best for you and identify your style goals to see if your clothing apparel need to be altered, donated, or purged. During this session I will create new outfits from your current wardrobe and make a shopping list of missing items.
Next Step: The shopping plan will be created to identify YOUR trademark, YOUR style. I will take notes along the way that will help me create your own personal shopping list.
(Average: 2-4 hours for Wardrobe Workout)
"Shop With"
Not sure where to go? Where are all the fabulous boutiques you keep hearing about? Not to worry. I have it covered and know where we are going based on your style goals, budget, and shopping list. You simply arrive to the destination, as I have pre-shopped and setup all your pieces in the proper sizes, colors, and styles in the dressing room. Throughout our time together, I will create outfits with these new pieces and discuss how you can blend the new items into your existing wardrobes to identify your style.
"Shop For"
No time? Not interested? No problem! I will do all the shopping for you and personally deliver it to you wherever that may be. Remember, I already know YOUR trademark, what works for you and on you, your lifestyle, and budget.
"Seasonal Packages"
This package includes the "Wardrobe Workout", 3 hours of shopping, and final outfit creations with newly purchased items blended into existing wardrobe.
(8 hours total)
Please contact us to discuss current seasonal pricing.
Find your style. Once you find it, trademark it.
Tina Marie Friedman
Click here to send me an email
720.276.0112